So yesterday I made a post on my in-depth software review of the camon CX and after the post I asked T-fans who use the device to share their experience thus far and a particular comment from a member caught my attention and it did not just get my attention cause it was better than the rest of the comments, but it got my attention cause it is a slight problem that needs to be resolved.

This particular problem is not just peculiar to everyone but to some specific people, as we know not everyone on the forum who uses a TECNO device is tech savvy, so I dedicate this thread specifically to TECNO fans who are having a hard time changing font on the TECNO camon CX so i will be writing on how to apply custom font on TECNO camon CX.

Now when I say custom fonts, I don't mean using a third party app, TECNO HiOS usually comes with "Hi Font" app which allows its users to download and use any font of their choice, but in the camon which comes with HiOS 2.0 which is an upgrade to its predecessor, does not come with the Hi font app. So today I will be sharing a tutorial on how to actually go about that without having to download babel app on playstore.

The Hi font app was not really removed neither was the ability to used custom fonts removed, you just have to be able to find your way around the device.
How to change font on TECNO camon CX
This step is really simple and won't take much of your time, so unlock your camon CX device and open the app drawer.

Once opened, locate and select "Hi Theme" as shown in the caption below.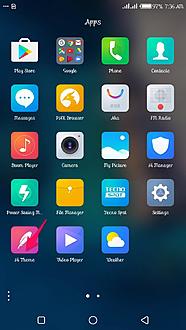 Once seen, click on it, below the "Hi Theme" page are some icons just like the one in the caption below, select the on with the red arrow which says "Me".
Just as you can see on the caption above, you have lots of options to choose from, you have "Theme" in here you can navigate and download lots of themes, "Wallpaper" With this you can download lots of tecno stock wallpapers, just in case you get bored of the pre-installed wallpapers, "Font" I like to refer to this as the tecno font market, where you get to navigate and download lot of your preferred fonts. So click on me and you should see a something similar to the caption below.
I only have three fonts up there for now, as at the time i took the screenshot I have not downloaded any, I hope you do find this as simple as I said it would be, do share your feedback using the comment form below and I will be with you shortly.