The duo of TECNO Camon 11 and Camon 11 Pro are among the impressive series of smartphones, released by TECNO this year. The Camon 11 Pro comes as a better and upgraded version of its predecessor — the recently launched Camon 11.

While both devices share many similarities, the newer model features a number of improvements as regards chipset, camera setup, storage configurations, and others. With such advanced offerings in the TECNO Camon 11 Pro, it is no doubt more expensive than the Camon 11.

In the heart of this review, I will be unboxing a brand new TECNO Camon 11 Pro. Let me cut to the chase and start the review with gusto: Camon 11 Pro Unboxing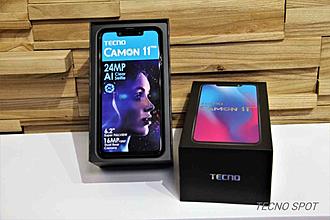 This cell phone is enclosed in a rectangular box that shows an esthetic schematic design of the device,
along with
model
name.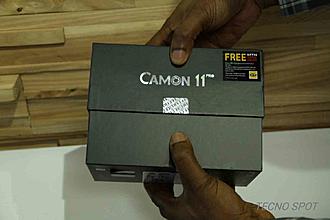 Taking a look at the upper part of the box, you will see the data offers from MTN and 9mobile, two among the leading network providers in this country. In one of the offers, there is a 100 percent data bonus from MTN on the mobile phone and another 1.5GB free data on SIM activation as well as 100 percent data bonus from 9mobile on every data purchase made within the first 6 months.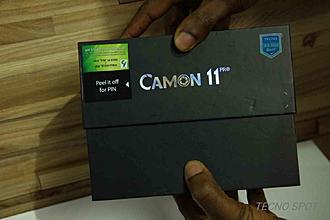 After removing the box, you will instantly be greeted by the pleasant look of the phone. If you check its top section, you will see a sticker that lists the key specs of the smartphone. Camon 11 Pro Key Specs and Features 2-inch HD+ Display Android 8.1 Oreo 0GHz Octa-Core MT6762 Helio P22 CPU 6GB RAM, 64GB ROM 16 + 5 Megapixel dual Rear Camera with quad-LED flash 24 megapixel front Camera with LED flash The fingerprint sensor, Face ID 3750mAh battery When you remove the phone from box, you will see a smaller box containing items, such as the back cover, user manuals, warranty card, the SIM Ejector tool, and Boom Play.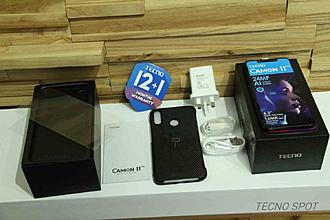 Like the majority of smartphones produced by the TECNO brand, you need not stew over the possibility of any of the accessories missing. After purchasing the product, you will get the full package comprising all the necessary accessories.




1 Camon 11 Pro device A user manual SIM Ejector Tool Warranty Card 1 USB 2.0 Cable 3-pin wall adapter charger 1 phone case Boom play Music card 1 pair of earphones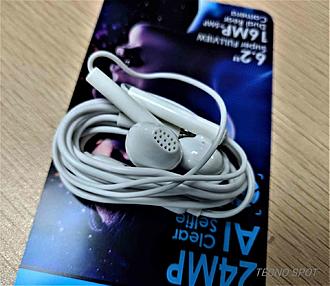 Behold the exquisite pair of earphones The Camon 11 Pro packs a non-removable 3750m-Ah battery and a charger with fast charging support. Looking at the picture above, you can see that TECNO has ditched the regular pouch on their mobile devices in the Camon family as this Camon 11 Pro's pouch looks much better compared to what we are used to.

Camon 11 Pro Unboxing — DESIGN
Concerning the design, the phone's aesthetical and architectural makeup readily shows it is a lookalike of the Camon 11. They both come with the same dimension and aspect ratio.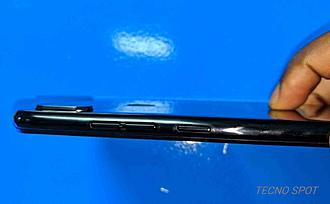 The Camon 11 Pro has a glossy and reflective body with its volume adjustment buttons and power/lock button on the right-hand side. Turning towards the left-hand side, you will see its SIM card and micro SD card slots. The loudspeaker grills, the micro USB port, and 3.5mm headphone jack sit at the bottom.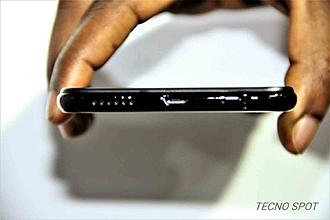 As can be seen in a number of latest releases from this phone maker, there is a shift in design which can be noticed at top of the device: The 3.5mm audio jack has been moved to a different section, which is at the bottom of the mobile phone. This is a vantage position for the jack as you can now put your smartphone in your pocket with ease while listening to music.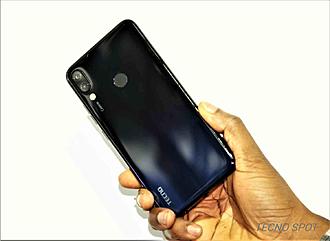 In the camera department, its 16+5 MP dual rear camera setup can be seen slightly above
the the quad-LED
flash. Its rear-mounted fingerprint sensor lies a few inches away from the quad-flash. At the front section, there is a 24-megapixel selfie snapper with LED flash.

Camon 11 Pro Unboxing — Display As regards the display, the TECNO Camon 11 Pro sports a massive 6.2-inch Super FullView IPS LCD panel that offers an HD+ resolution of 1500 by 720 pixels.

Just like the smaller Camon 11, this upgraded model also comes with the same screen-to-body ratio of 87.5% and a rectangular notch at the top part of its screen display. It promises the best of colors with its aspect ratio of 19:9 and brightness of 500 nits.

The TECNO*Camon 11 Pro, equipped with an octa-core MediaTek Helio P22, 6GB of RAM, 64GB ROM (expandable up to 256 via microSD card), and a strong 3750-mAh battery, should offer a remarkable performance.

The Camon 11 Pro is now available in the Nigerian market at a rate price of N76,000. Do let us know your opinion about the Camon 11 Pro. https://www.360nobs.com/2018/12/tecn...st-impression/