The TECNO Pouvoir 3 Power extravaganza season is here. Stand a chance to win 24/7 Solar Panel, Inverter with backup batteries and Generator set.

How to win:

1). Visit any TECNO exclusive store and buy Pouvoir 3
2). Collect your scratch card and scratch it. WHAT YOU SEE is WHAT YOU WIN. -(Instant Gift)
3) Snap your scratch card and post as a comment on our pinned Facebook post with the Hashtag #OneCharge4DaysOn.
4) On Twitter and Instagram, share as a post with the Hashtag #OneCharge4DaysOn.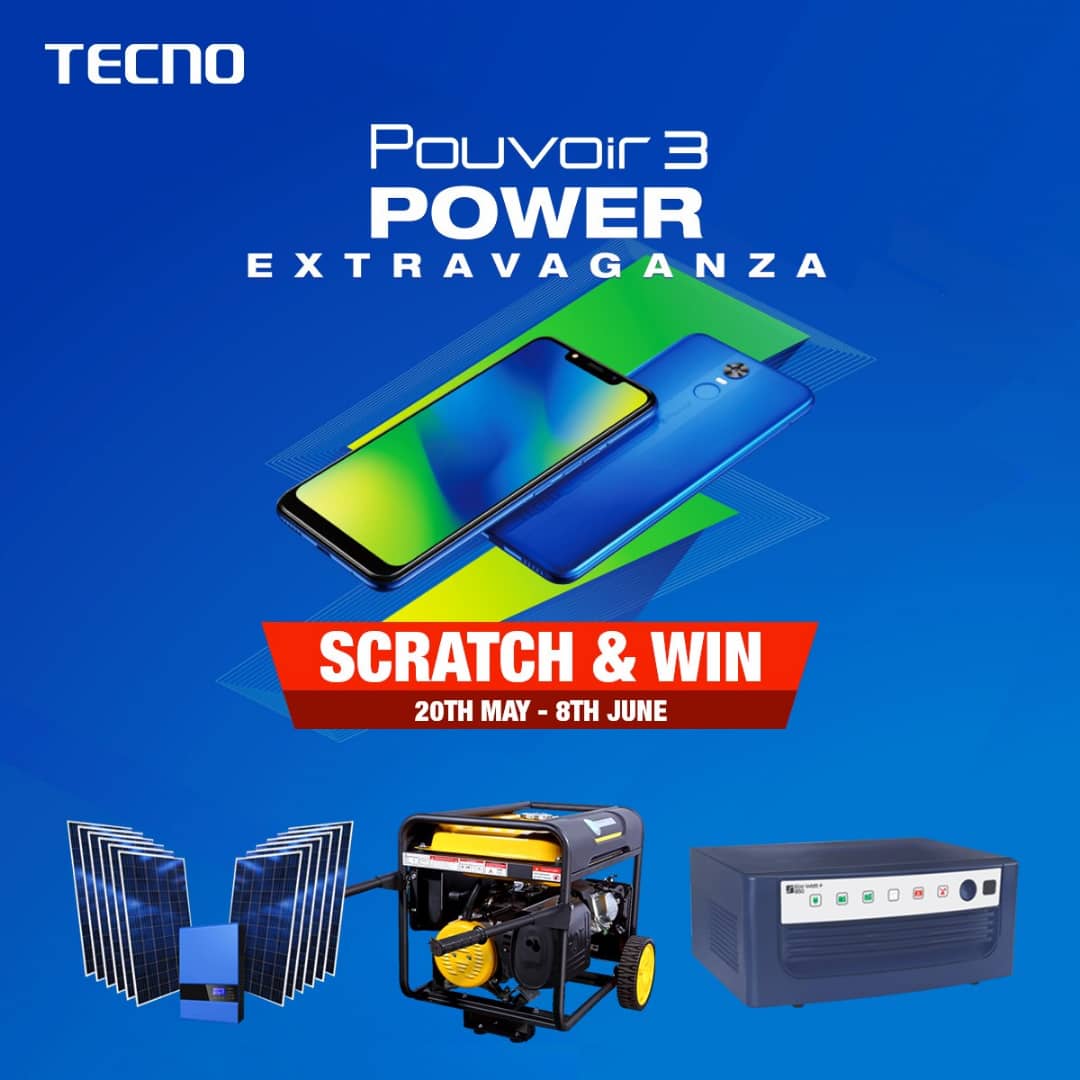 Furthermore,

You also stand a chance to win 5000Mah Pouvoir 3 Phone,
Do a less than 1 minute video jingle that says ''TECNO is giving out 24/7 Solar Panel , Inverter with backup batteries and Generator Set #OneCharge4days Pouvoir 3 device and other gift items.

Also post as a comment under our Facebook pinned post, (For twitter or Instagram, post on your page) with the hashtag #OneCharge4Days.

The funniest jingle with the highest number of likes stands a chance to win.

This activity will run from 29th May - 8 June 2019

Prizes to be won:
24/7 Solar Panel

Inverter with backup batteries

Generator Set
TERMS AND CONDITIONS
This activity is open for all Nigerians and shortlisted winner must be resident in Nigeria

Winners Must Present Scratch card to prove his or she is the rightful winner

Winners agree to co-operate with TECNO Mobile Nigeria in any post-event publicity where they may be required to appear on television or radio, or in printed and online publications, for which no fee will be payable.

TECNO Mobile Nigeria will not divulge the database of entries received to any 3rd party except in litigation.

TECNO Mobile Nigeria reserves the legal right, at any time, to verify the validity of any part of an entry and participant (including a participant's identity, age and place of residence, authenticity of activity) and to disqualify any participant who submits an entry that is not in accordance with these Terms and Conditions or who cheats during the entry process. Failure by TECNO Mobile Nigeria to enforce any of its rights at any stage does not constitute a waiver of those rights.

Except for any liability that cannot be excluded by law and except as stated in these Terms and Conditions, TECNO Mobile Nigeria (including its officers, employees, and agents) excludes all liability (including negligence), for any personal injury; or any loss or damage (including loss of opportunity)

Employees of TECNO Mobile Nigeria (or any of its group companies or affiliates/sponsors), or anyone associated with this cause cannot participate in this activity.