Some Android users biggest complain is Android updates to their smartphones, this has been the case because of how complicated it is for manufacturers to deliver updates to devices. Google has been working on a fix for updates and decoupling Android components seems to be the way out. Android will be updated in such a way some of its components will be updated independently without the need for a major version update.
ANDROID JET PACK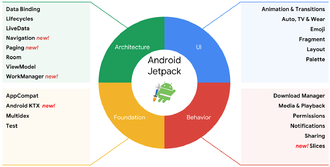 And the move for decoupling actually started years ago with a series developer APIs called Android Jetpack which gives developers the ability to write apps that works across versions with most of their most have features built-in unlike before where you probably needed a higher android version to take advantage of key features in some application. Google apps are a good example of how features exist within the apps and not the operating system.
PROJECT MAINLINE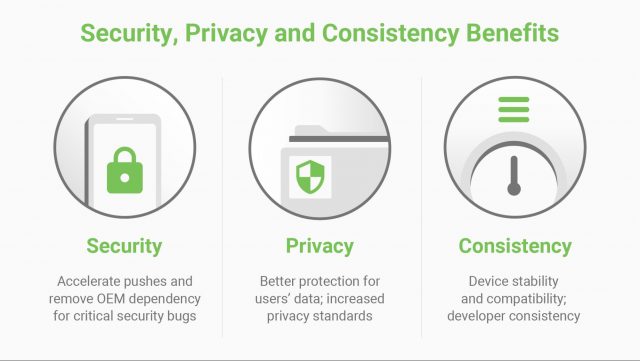 One key aspect of android decoupling is security, which Google had gradually started working on with google play protect, flexible security patch for OEM's with Android 8.0 which allowed OEMs deliver a patch to Android without need for a major update. But, during I/O 2019 Google announced PROJECT MAINLINE which will deliver updates via google play to 12 core aspects of Android without the need to restart.
Security: Media Codecs, Media Framework Components, DNS Resolver, Conscript

Privacy: Documents UI, Permission Controller, ExtServices

Consistency: Timezone data, ANGLE (developers opt-in), Module Metadata, Networking components, Captive Portal Login, Network Permission Configuration
This is not the final solution to update problems and these wouldn't be immediately available to all phones yet even if your phone gets updated to Android Q due to the kernel support, but its a step in the right direction when it comes to solving android update problems.
​CONCLUSION
Android itself is a mature OS, and most of the recent updates have been minor tweaks which already existed in some OEM's custom software, also some OEM's have been guilty of sending updates which is noticeable more buggy than the software which shipped with the phone.
I am not saying Android updates are totally irrelevant and you should stop caring about updates, at least your entitled to software support for buying a product from an OEM; but be smart about it, instead of worrying more about the android versions worry more about security patches, features, stability and performance of the device.