Good Day TECNO Fans, I trust you are all having as nice day, I know majority of TECNO members have the TECNO Spark K7 in their possession and I am also not left out, I have actually been with the device for over a week at first I was like "why use a 1gb ram device or even a Lite device at that " but now I have been impressed so far by its performance, therefore; today I will be writing a review on the T-Point application and how to use it.

Now I know when I mention "T-Points" so many TECNO members who don't own the device will think I actually mean the T-points on TECNO Spot forum which members earn by either making post or commenting on created threads
well far from it, The TECNO Spark K7 actually came with a T-Point application and it I will be discussing on it.
How To Use The T-Point Application On TECNO Spark K7
Once after unboxing your TECNO Spark K7 and you boot and finish the setup, you will be greeted with a welcome screen alongside a small dark circle like the one in the caption below.
Now Tap on the rounded ash circle with a blue arrow and you will be greeted with something like the caption displayed below
Now if you look closely you should see some symbols which I have already labelled for easy use; the Featured Apps which can set your most preferred or used apps for quick access, Camera for accessing and taking photos, back, Minimize and Open recent Apps.

Now apart from that You can swipe through the icons just like it has been displayed in the caption below to view more of the T-points option
Just as shown in the caption above, you can tap and slide through slowly to see more amazing icons like; Screenshots, Micro Intelligence, and Quick Accelerate feature, which enables you to clear applications running on background with a single tap.

Also Tapping on the featured apps like displayed in the caption below, allows you to add your most used or preferred applications and also give you the chance as a user to modify the default preferred apps already set by factory default just as shown in the caption below.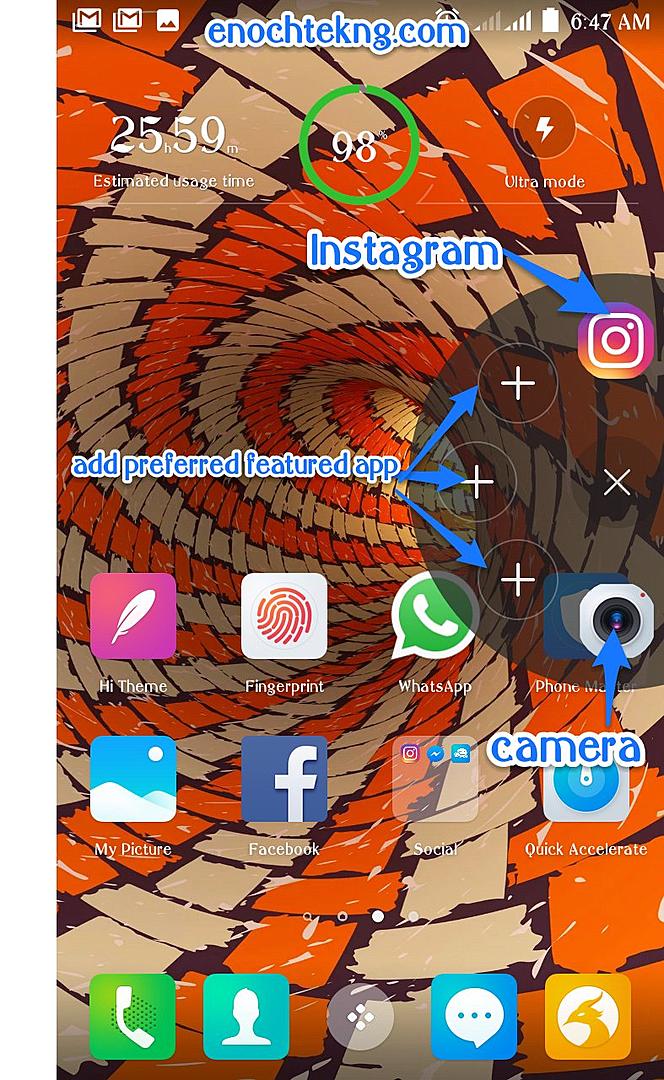 How To Turn Off / Disable The T-Points Application
Now there are some members I know who have in one way or another asked in threads and even created threads just to ask how to disable the T-points app from displaying on their screen.

Well to turn it off, Just click on your App drawer, Locate and select the T-Point Application, Once launched you should see three different options being displayed;
T Point On/Off
Application Settings
Background Color.
Just toggle the switch on the first Option to turn it Off.


If you feel like I missed out on any key literal techniques or you have any feedback / question do weel to use the comment box below and I will be with you shortly, Thanks for using TECNO Mobile.