The phantom 6 which was launched last year, which is meant to be and upgrade and a big brother to the phantom 5 but some school of taught has argued that the phantom 6(P6) is not much of an upgrade to the phantom 5(P5) due to the removal of the fingerprint scanner and the downgrade of the battery capacity, I recently got my hands on some devices during the holidays and the phantom 5 was one of them, so I would like to share with you and would like to share with what my view is on the phantom 6 being not just a brother, but a big brother.

DESIGN
even though they don't look alike they share similar design language, with its metal rims and plastic back covers which was given metal-like finish. Even with some of the similarities(which I dint state) the phones can be easily differentiated on first look. But the deal breaker here is the way the P6 feels in the hand over the P5, its better ergonomics makes it feel better in the hand when holding, it is slimmer and lighter in the hand and its metal feels a lot more durable that that of the P5 which feels like its coved in primer. The slimness is largely due to that reduces battery capacity on the P6.

PERFORMANCE.
Before diving into details, This section is a straight kill for the P6 let me show you why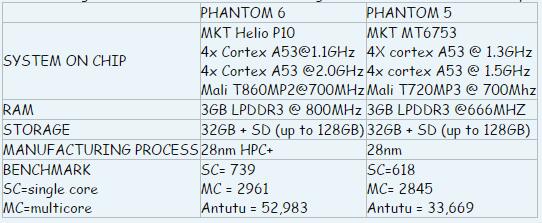 From the specification and the benchmark score, we see that the Phantom 6 was defiantly an upgrade in this section.

SOFTWARE
The P5 was shipped with android 5.0 and Tecno skin while the P6 came with Android 6.0 and HiOS. Most of the features on the P5 was ported to the P6 with the HiOS on P6 also adding more useful features to the already powerful Android 6.0 which was an OS which corrected most of the bugs which existed on Android 5.0.
In this category, Android 6.0 and HiOS worked together to make sure Android 5.0 and Tecno skin (which was not so bad) look like childsplay.

CAMERA

The difference in both phone camera pictures is unnoticeable especially in good lighting conditions, but in low light where is a slight difference in color temperature, where the P6 tires to keep colors natural the P5 tends towards a warmer image. There is no major difference in this category except the second camera which made all the difference when you take pictures in the refocus mode.
BATTERY
One thing everyone knows about computers is they are made up of hardware and software, and basically everyone knows is hardware specifications are very important but most times people don't pay attention to the software part of that device. Coming to the battery of both phones, we can see clearly from the hardware side of things that the phantom 5 has a larger battery than the phantom 6. But what about the software? That is where the Phantom 6 really shines, Android 6.0 battery optimization + Doze and HiOS optimization should make up for the 300mah battery shortage on the phantom 6. I am not totally saying the battery drop was the best thing to do, if I was the designer of the phantom 6 I would have preferred having more battery to having a slimmer phone (who slim phone epp!) This was not a good trade-off in my opinion but its amazing seeing the P6 giving you a 4h screen on time despite the small battery.
EYE IDENTIFICATION SCANNER FOR FINGERPRINT SCANNER.
Just like the Camon C9 and C7 the phantom 6 favored its eye scanner over the fingerprint scanner which was earlier used on the phantom 5. I wondered when I first saw the spec sheet of the phantom 6, I asked myself, No Fingerprint?
The possible reason for this is the position of the finger print scanner has been replaced by the second camera sensor and dint know how to fit in. The second reason could be Tecno was trying to keep the cost of the phone low. The last possible reason could be create a clear cut difference between the P6 and P6+. Whichever the reason was, it was not a good tradeoff also. Taking of the highspeed fingerprint scanner which was on P6 for the Eye Identification scanner which was much slower or the dual camera was not worth it.

FINAL THOUGHTS:
From above, we see that the P6 could edge out the P5 in most of the categories especially performance and software, in the other sections where is wasn't so bossy, it wasn't far away in the competition. Since they are brothers (just a year difference in there age) I expect them to share similar principles which they did. The phantom 6 proved its worth in the major categories, exceptional new software and design makes the P6 true big brother over the P5.
What do you thing about both phones, which would you vote as the big brother?

SEE YOU IN THE POLLS. PEACE!